Miss Lia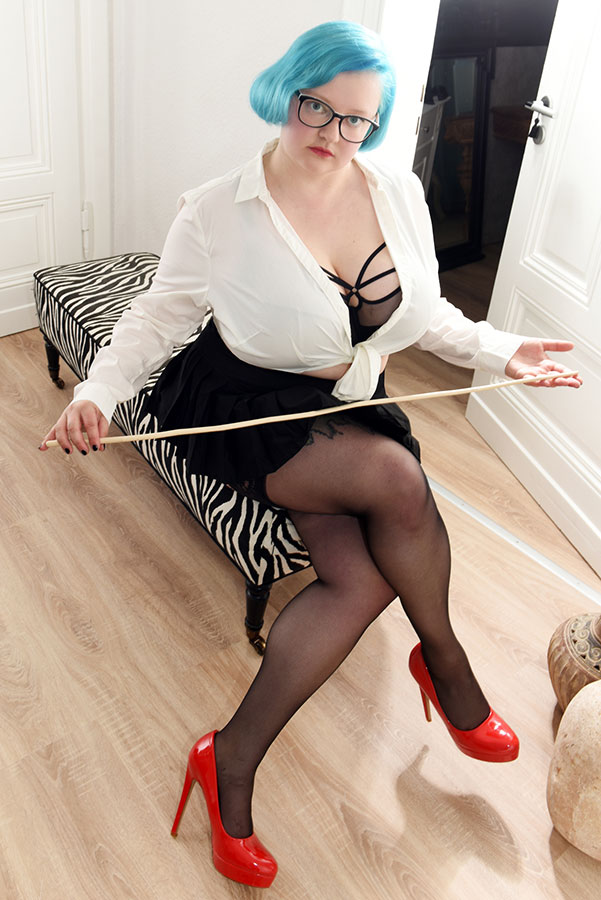 Let me kidnap you so that together we can make your most beautiful fantasies and most secret perversions come true. Tell me your head cinema and make me the director and leading actress of your personal fetish dream.
I am a real sadist and reaction fetishist. I will enjoy touching your naked body with my hands, caressing and hitting you, eliciting the most beautiful screams from you, watching your twitching and trembling with joy and listening very carefully to your moans.
With warm warmth, patient rigor, care and expertise, I accompany you on your journey into the BDSM world and enable you to have unique experiences. You decide whether we meet at eye level or whether you want to lie at my feet.
For me, BDSM is not just a preference or inclination; rather, I see playing with power and submission as my sexual orientation and attitude to life. I define myself as a switcher and I like to give in to pain. If you like, you too can spank my ass.
I would like to meet you as a person and not as a fictional character, so I would like to tell you something about myself: I am very curious and open, calm and patient. I can trust my intuition and usually feel very quickly what the person I'm talking to wants and needs. I have a wide range of interests and love intelligent people who are enthusiastic about the most absurd niche topics. I like trying new things and no trip can cure my wanderlust.
Gallery
My Preferences
English version of preferences available soon!
Passiv: Spanking
Aktiv:
Spanking, Impact Play, Rohrstockerziehung
Anfänger angenehm
Erotische Massage mit Tantraelementen
Klassische Dominanz
Diverse Fetische
Petplay
Adult Baby, Windelfetisch
CBT
Klinik: Nadelungen, Analbehandlungen, Dilatoren usw.
Pegging, Strap-on
und noch vieles mehr...
Tabus: GV, OV, KV, Vomit
Meine besondere Spezialität: Lass dich von meinen naturschönen Brüsten hypnotisieren. Hier ist alles echt und wenn du ganz brav bist darfst du sie vielleicht auch anfassen...
Ich stehe auch gerne für Abendbegleitung (Theater, Poetry Slam, Abendessen, Vernissage oder Veranstaltungen) und Reisebegleitung zur Verfügung.
Terminvereinbarung bitte über WhatsApp, SMS oder Mail. Nenne mir kurz deine Vorlieben und Tabus, deine Wünsche für die Session und den gewünschten Zeitrahmen. Bei weiteren Fragen können wir anschließend gerne kurz telefonieren. Ich nehme deinen Anruf nur an, wenn wir vorher geschrieben haben.