Lady Christina Gold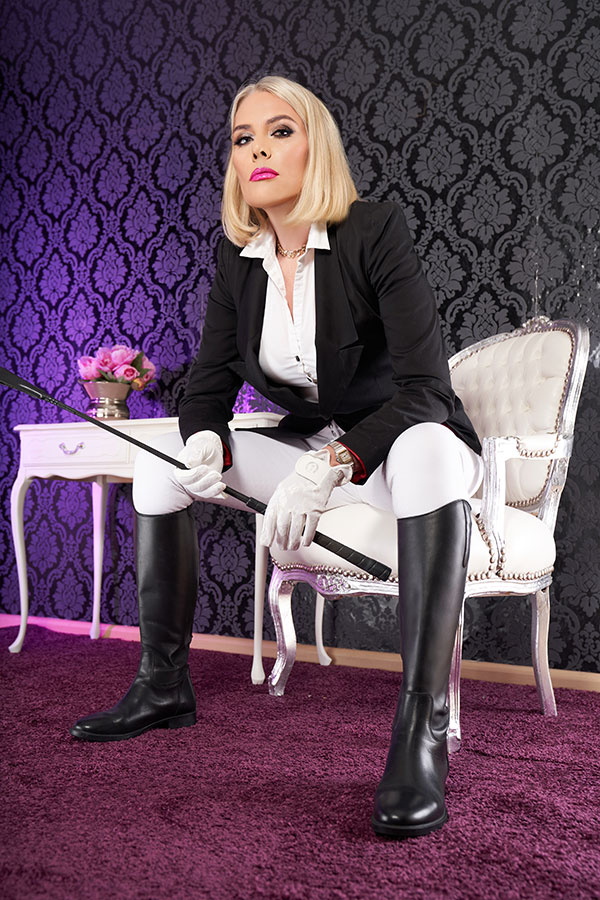 Presence
MON to FRI 11.00 - 20.00 h
Mon-Fri 11-20 h
Sat by prior arrangement
The bizarre game is my life. I love seducing, leading, controlling and dominating you, doing so I am sometimes close, sometimes distant, sometimes consequent mistress, sometimes frivolous play partner. I enjoy when you are exposed to me, making you the willless object of my pleasure.
The spectrum of my fetishpreferences is wide and thanks to my experience you can expose yourself to me and leave everyday life behind. Go on an exciting trip with me into my bizarre world and enjoy unrestrained, dirty bizarre games.
I love PVC, leather, latex, tight closed, nylon, high heels and boots. My appearance is always elegant, but dont be fooled, I am a master in dirty talk and love it wicked.
If you love a rough pace, I will steadily increase your pain and drive you further into your obsession.
As a clinic patient you are in good hands. Be it a frivolous nurse or a perfidious doctor, I will tend to your sex needs through the use of my bizarre treatments.
Do you love erotic attraction from nicely shaped women legs in extravagant nylon? Here lovers of shoe, stocking and foot worship will find what they seek.
From soft massage and kissing to trampling or food crushing our fantasies decide the play.
Are you the masochistic slave, the submissive servant, the bizarre epicure, the fetishist, the roleplay fan, the latexlover, the clinic patient or the little transvestite whore? Then you are invited to live your fantasies with me.
Contact me at +49 173 5111929
Lady Christina Gold
Gallery
My Preferences
Erotic dominance
Classic dominance
Pleasure and lickingslave education
Facesitting
Bizarre pleasure games
Analtreatment ranging from soft to extreme
Fisting you
Strap-on
Golden shower excesses
Forced piss drinking
Feminisation, manwhore training, sissy training
Pubic hair shaving
Roleplays of different kinds
Adultbabies, diaper fetish
Petplay, dog, pig
Shoe, stocking and footerotic
Stockings, real nylons, high heels, boots, Sandals
CBT, clips, weights, wax
Ballbusting
Trampling
Spitting
Tie/shackle games
Flagellation
Mummification
Keeping you in a cage
Long term treatment
Breathcontrol
Nipple treatment
Orgasmcontrol
Urethra treatment
Prostate treatment
Stimulating current
Dirty talk
Physical and psychological humiliation
Clinic
Clyster
Catheder
Needles
Electrical muscle stimulation
Shavings
Enemas
Milking
Forced ejaculation
... and much more on demand!